Welcome to another round of successful Saturday! This was one of those weeks where I'm really glad I created this little linky. We had some major ups and downs in Lower El this week. I really need to focus my energies on the positive things. In case you missed it, my 200 follower giveaway has ended, BUT I've put all of my products on sale for 20% off from now through Sunday, including my brand new clip art!
Before my regular Saturday post I wanted to share an important blog post with you. My friend Jen at Runde's Room is having a special weekend in her TPT store. A child who is a friend of her family has been diagnosed with cancer. She is donating all of her procedes this weekend to his family to help pay for his chemo. Stop by her blog to read the full story!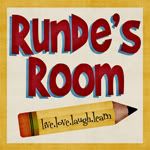 My Success Story:
Honestly, I already wrote about my biggest success on Wednesday in my post
Autism Leaps and Bounds
so I had to pick another success!
This week my biggest success (other than my post the other day) was finding each student's weaknesses and begin to work on them! I've decided that for the rest of the year each kid will work on whatever is their biggest challenge in between regular academic tasks.
One thing I noticed his how poor the vocabulary skills are of one of my students! I was working on inference skills and he couldn't name basic objects in the pictures when I was having him use the "picture clues" in the story to help him make inferences. To help him I started doing a TON of work on basic vocabulary every chance I got! I turned writing time into descriptive writing about a toy from the play area. I added an activity of Earth vs. Mars words (non-sense words) and had him define the Earth words for me verbally. I think I may add in some basic object naming cards next week.
Two other kids have HORRIBLE fine motor skills. I added in more scissors work and cutting odd shapes into our lessons (vegetables for our plant unit, sentence sequencing in reading, etc.). Next I added some pokey pin (Mrs. Miner) activities. I also added in some fun hands-on centers. The first was using tweezers to move beads into a cup. When the children got better I gave them smaller tweezers. After they mastered that I gave them corn kernels which were smaller and more slippery.
Here is my minor success:
We've been learning about plant parts and life cycles.
Tops and Bottoms
by Janet Stevens is by far my favorite book for this unit! The kids ALWAYS love it. It teaches a moral, parts of a plant, and the parts of a plant that people like to eat. The kids were cracking up. Thanks to autism, one boy thought the hare was the meanest character ever for cheating and didn't understand that the bear should have worked harder or at least asked what was being planted before picking tops or bottoms. I tried to explain this, but he was stuck on the unfairness. HAHA!
Then we cut out various fruits and veggies and glued them based on whether they were "top" or "bottom." This was another example of our motor practice. Take a peek!
This linky is for ALL GRADE LEVELS and BOTH General and Special Ed blogs!
Here are the Successful Saturday Rules:
Share your success story on your blog!

Link up your blog story with the linky banner and a link back to this post so others can share their great ideas and link up too.

Go read at least 2 other Successful Saturday blog posts and leave a comment. I don't know about you, but I LOVE finding other blogs to follow, get ideas, and share successes!
What's your success story?