Do you ever have one of those days where not one HUGE thing happens, but all sorts of little things happen that add up to equal
A
FABULOUS DAY???
Well, that's the kind of day I had today. I didn't even realize it until I got in my car on the way home from the gym.
Today totally makes up for the construction zone in my classroom I told you about yesterday!
So here are my little tidbits of greatness:
I started DIBELS benchmark testing my kids. I focused on one kinder boy today, and did his whole test in bits and pieces (for breaks) during language arts. He made benchmark on all but one section! At first I was bummed because I only have 5 kids, every kid should be on benchmark for everything!
But then I started being realistic, I teach SPED... so the fact that I have a kinder kid hitting benchmark on
almost
his
whole
test is pretty great! Plus he's my lowest kid (only because I have a tiny class, not because he's lacking) so that gives me super high hopes for the rest of my kiddos!! Yay!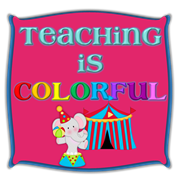 Then I got an email saying I won Teaching is Colorful's 200 Follower Giveaway!! I've never won one of those! I was SUPER excited!! I got a $10 TPT gift certificate! Plus I got her Arctic Animal Unit which is the most adorable thing ever!! I'm completely loving the super colorful "I have..., Who has..." game! It's perfect timing since we started learning about penguins this week.
I also received her AMAZING First Grade Math Vocabulary Cards which have the common core codes in the corner to help you track them as you teach concepts. I can't wait to use these. I think I may even start using them with my kinder boys and get them used to the terms they need to know next year. Plus they are super colorful and eye catching!
My other great winnings included Snowman Magic from
Our Sweet Success
which I can't wait to use!! And I also got Noun or Verb Scoot from
Teaching with Love & Laughter.
What great prizes! You bloggers rock!
Lastly, I had a GREAT workout at the gym. It was so nice to go back after being sick the last few weeks and not going as much as usual.
Funny story... one of the trainers from my gym was on The Biggest Loser last night! I do CrossFit and the new outdoor gym Bob set up was a CrossFit style gym. Those "friends" of his were big competitors in the CrossFit world and one of the guys owns the gym I go to and is a trainer. I thought I was crazy last night when I saw him, but it was confirmed today by my friend at the gym today.