Happy April Everyone!!
April is Autism Awareness month, which as you must know, is something very dear to my heart. Kids with autism are my favorite group to teach! They make my brain work in new ways, and constantly keep me on my toes. They also have a way of putting me in my place with their brutal honesty! Hahaha! Now it's time to spread my love of autism this month!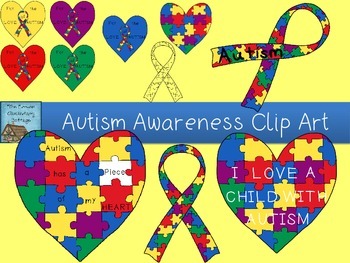 In honor of Autism Awareness, I've created a brand new set of clip art! This set includes images with and without words.
Also, Chris at
Autism Classroom News
has TONS in store for you this month. She has already set up links for free autism related items!
Plus, I'm joining her in a special sale April 2nd and 3rd.
All of my special education products will be 15% OFF!!
Chris made the most adorable sale banner using my clip art!
Don't miss my latest post on A Special Sparkle about dyslexia!!